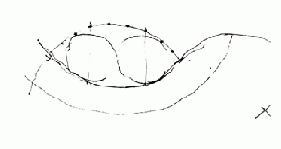 Campus Farm Outdoor Classroom and Resource Structure
Butler University, Indianapolis, Indiana 2012
Program:
Education and student community pavilion for The Butler Campus Farm
Site Area: 1/2 Acre
Status: Construction complete
Client: Center for Urban Ecology
www.butler.edu/cueb/
In July 2011, the University and the Center for Urban Ecology were awarded a grant from the Nina Mason Pulliam Charitable Trust to expand both the physical space and the educational programming associated with the Butler Campus Farm. The Center for Urban Ecology (CUE) which runs the farm, exists to explore, steward, and enhance urban ecosystems with a vision of becoming a national leader in the study and practice of urban ecology. Puzzello Architecture Practice was selected among proposals from other firms to design a pavilion to be built on the farm site. The architecture of the pavilion needed to not only have a goal of 100% recycled content, but express a landmark, and to be demonstrative in its educational purpose.
The solution for this experimental structure was based on the geometry of the vesica, the shape created by the intersection of two circles with the same diameter, seen in medieval art, architecture, and crop circles. In this proposal the vesica plan shape is brought three dimensionally to a shelter form structured as a geodesic dome. The structure was computer modeled to describe the geometry of the overall shape and the individual pieces and components. The roof is fabricated from architectural fabric formerly the roof of the RCA Dome. PEOPLE FOR URBAN PROGRESS (PUP) is an Indianapolis-based 501c3 non-profit organization that promotes and advances public transit, environmental awareness, and urban design. PUP salvaged the roof material initially from the demolition site of the RCA Dome and proposes new uses for the material from roofs to handmade products. http://www.peopleup.org. The pavilion achieved over 80% recycled content through:
1. 20% lime ash used in the concrete mix for footings.
2. All the steel support columns were taken from a dismantled baseball backstop on the Butler campus.
3. A large portion of the roof structure was made from re-fabricated wood components taken from a former industrial building and for this project.
4. The entire roof material was re-patterned and taken from part of a former football stadium fabric roof, the RCA Dome in downtown Indianapolis, demolished in December of 2008.
Architect:
Puzzello Architecture Practice
Paul Puzzello (design/project architect)
Scott Routen (design collaboration)
Structural Engineer:
Silver Creek Engineering
Construction and Permit Management:
Puzzello Architecture Practice
Repurposed Architectural Fabric Provider:
People for Urban Progress
www.peopleup.org
Repurposed Architectural Fabric Storage:
RecycleForce
Steel Fabricator:
Aaron Betzner
Wood Falsework:
REK Construction
Architectural Fabric Fabrication and Installation:
Awnings Plus
Architectural Fabric Digital Patterning:
PROJECTiONE
Wood Fabrication:
The Beamery
Foundations:
CML Concrete