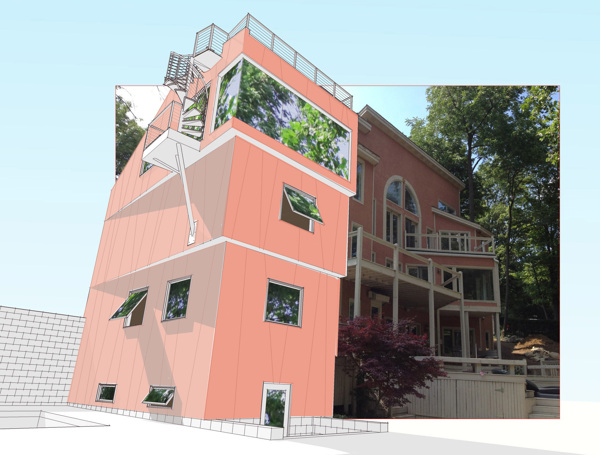 Lakefront Addition
Indianapolis, Indiana 2013
Program:
Addition to existing lake house providing recreational and guest room spaces.

Status: Construction
Client: (withheld)
This addition to an existing stucco-clad lake house built in the mid 1980s, contains spaces for a bedroom, home theatre, and social gathering space on the top floor. The picture/corner window provides panoramic views to the water and lakefront property. Spiral stairs dramatically cantilever over an adjacent swimming pool leading to a rooftop deck. The addition takes advantage of an extremely sloping site and forms an addition to the existing house that addresses the corner as a tower.
Architect:
Puzzello Architecture Practice
Paul Puzzello (project architect/designer, structural design)
Puzzello Architecture Practice (construction management)
Indianapolis fabrications (spiral stair and railing fabrication)
Precision Wall Systems (glazing)